---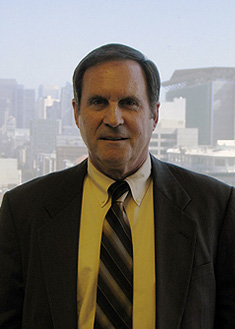 Roger Mialocq has extensive experience in public sector management auditing, financial analysis and management, and budget analysis. He has managed HMR's ongoing management audit program for the Board of Supervisors of the County of Santa Clara for over 36 years, and has audit experience in virtually every type of city and county government agency and function. Areas of particular expertise include analysis of pension funds, actuarial reports, cost allocation plans, SB 90 claims, internal service, enterprise and special revenue funds, CAFRs, OMB A-87 requirements, law and justice, health and hospital, social services, general government and government management information needs from a managerial perspective. Prior to joining HMR, Roger served as Assistant Budget Director to the San Francisco Board of Supervisors and Assistant Property Manager at the San Francisco International Airport. He holds a Bachelor of Arts degree in Economics and a Master of Business Administration degree in Management from San Francisco State University.
---

Mr. Mialocq brings over 40 years of experience to every project. He has specific expertise in the following areas:
Budget Analysis: Mr. Mialocq oversees HMR's annual review of the proposed budget for the County of Santa Clara. He directs staff to conduct a detailed fiscal review of the recommended budgets for over 35 County departments, ranging in size from less than $10 million to $1.5 billion in annual expenditures.
Special Studies: Mr. Mialocq has conducted numerous special studies for the County of Santa Clara and other cities and counties across California. Examples of recent projects include: a special study of emergency medical response times by the City of San Jose Fire Department; a special study of the highest users of services in the County of Santa Clara; a special study of $95 million in social service agency (SSA) wraparound service contracts; a special study of actual and projected benefits realized by the Santa Clara Valley Medical Center from a $20 million contract with Deloitte consulting; and, a special study examining the prepaying of annual employer PERS contributions.
Performance and Management Audits: In his role as the manager of the County of Santa Clara's Management Audit Program for the Board of Supervisors, Mr. Mialocq has overseen more than 80 management audits, including: a limited scope audit of the County Recorder's Office Foreclosure Process; an audit of the Cal-ID/Remote Access Network Board; the Office of the District Attorney; the Family and Children's Services Department of the Social Services Agency; the Roads and Airports Department; the Sheriff; the Valley Medical Center; the Controller-Treasurer and many others.

Some noteworthy findings from Mr. Mialocq's projects include:
Determined Santa Clara County's Child Abuse and Neglect Center was returning only 59 percent of reported abuse/neglect calls;
Valley Medical Center failed to submit $7.3 million annually of retroactive Medi-Cal claims for General Assistance clients approved for Supplemental Security Income (SSI);
Valley Medical Center's $20 million contract with Deloitte Consulting produced minimal quantifiable benefits or savings;
County prepayment of annual employer PERS contributions resulted in a budget reduction of approximately $5.0 million;
County of Santa Clara Controller-Treasurer staffing was lowest in the State of the 10 most populous counties. Audit recommended, and Board approved, addition of 14 new positons;
County vehicle fleet was excessive. Found that 127 vehicles were driven less than 3,000 miles annually. Board approved reduction of more than 150 vehicles;
Leasing of County buildings/facilities was found to be excessive. Board approved acquisition of more than $50 million of office space;
County Department of Alcohol and Drug Services clinic staff costs exceeded $600 per client hour;
847 of the County's 4,815 cell phones determined to have minimal use resulting in costs in excess of $5.00 per call leading Board to approve elimination of the phones.