---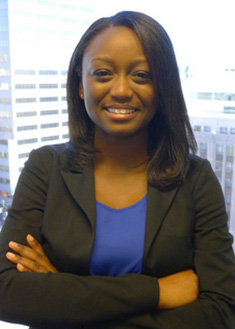 Latoya McDonald is a Principal Analyst with experience in local government, fiscal and policy analysis, strategic planning, and international economic development. Prior to joining Harvey M. Rose Associates, Ms. McDonald was a Senior Analyst at the San Francisco Board of Supervisors Budget and Legislative Analyst's Office. In this position she conducted budget analyses and policy analysis on pertinent local issues such as homelessness, the affordability of senior in-home care, and regulation of the short-term home rental industry.
Ms. McDonald previously served as a Junior Program Officer at the Global Knowledge Initiative, where she conducted research on agri-tech innovations in East Africa and delivered policy and strategy advice to the Government of Rwanda. Ms. McDonald has also completed projects analysing education policy challenges in Tanzania and Colombia as a Policy Consultant for non-profit organizations and foundations. Prior to completing her graduate degree, she worked at the International Monetary Fund organizing high-level conferences inviting foreign officials and academics to discuss global issues.
Ms. McDonald holds a Bachelor of Arts degree in Spanish from Georgetown University and a Master of Public Policy degree from the University of California at Berkeley's Goldman School of Public Policy.
---

Compliance Audit, Sports Car Racing Association of the Monterey Peninsula
Audit, Sacramento Regional County Sanitation District Contributing Agencies
Policy Analysis, Regulation of the Short-Term Home Rental Industry in San Francisco
Policy Analysis, Costs Incurred by the City and County of San Francisco for Enforcing Quality of Life Laws Against the Homeless
Policy Analysis, Affordability of Senior In-Home Care in San Francisco
Budget Analysis, San Francisco Department of Public Health's proposed $2 billion FY 2016-17 budget
Budget Analysis, San Francisco Public Utilities Commission's proposed $993 million FY 2016-17 budget