---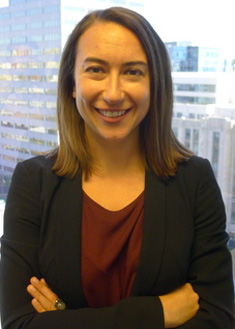 Jadie Wasilco is a Senior Analyst with experience in budget, legislative and policy analysis and performance auditing. Prior to joining Harvey M. Rose Associates, Ms. Wasilco worked for the San Francisco Board of Supervisors Budget & Legislative Analyst's Office where she made recommendations to the Budget & Finance Committee regarding the fiscal impact of legislation and City departments' budgets. She also conducted in-depth policy analyses on topics related to affordable housing, homelessness, long-range transportation planning, streetscape improvements, and public safety staffing.
Ms. Wasilco previously held positions in the public, private and non-profit sectors in New York and Los Angeles including government and community relations at Lincoln Center for the Performing Arts, real estate and urban economics consulting at HR&A Advisors, and affordable housing finance at the City of Los Angeles Housing Department.
Ms. Wasilco holds a Bachelor of Arts from U.C. Berkeley, and a Masters' in Urban and Regional Planning from UCLA's Luskin School of Public Affairs.
---

Performance Audit, San Francisco Division of Real Estate
Performance Audit, Provision of Homeless Services in San Francisco
Legislative Analysis, Proposed Ordinance requiring the City of San Francisco to Open and Operate six new Homeless Navigation Centers
Policy Analysis, San Francisco's Jail Population, Costs and Alternatives
Policy Analysis, Best Practices for San Francisco Police Staffing and Funding Levels
Policy Analysis, North Beach Central Subway Station Alternatives
Annual review of the proposed $289 million FY 2016-17 San Francisco Department of Public Works budget
Annual review of the proposed $577 million FY 2016-17 San Francisco Police Department budget